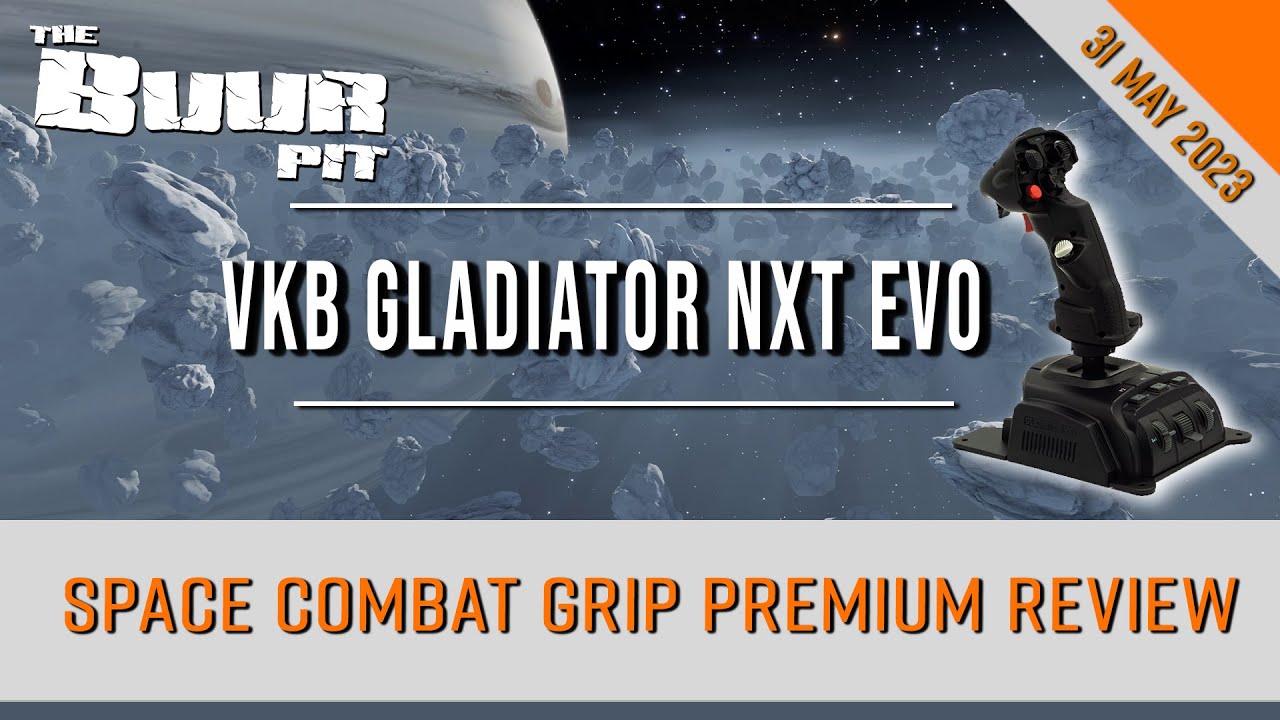 The recently invited BURRITO to join VKB's official partner program, providing hardware for review without any monetary element. VKB are a premium level Joystick and Flight Game Hardware manufacturer, the Gladiator NXT range falling into their entry-level Premium Gear Catalog, making it a much more affordable version of their more pricey counterparts.
For this review, we'll approach from the perspective of a more general user; does the product work, is it reliable, is it worth the money? VKB's current lineup of grips feature a World War II grip, the Modern Jet Fighter themed F-14 Edition and the Space Combat Grip, which was sent for review.
The VKB Gladiator NXT Evo with the right hand version of the premium space combat grip, features an almost entirely plastic construction inside and out. The plastic is incredibly tough and resilient and features glass fiber reinforced PA for the stick base. It comes with different springs that can be easily changed out and adjustment screws on the gimbal that can be tightened or loosened. VKB's kit features a highly componentised design ethos, meaning if a component fails, you can easily replace it yourself. The main trigger has two stage functionality and a secondary trigger that fires if pushed away, giving plenty of potential keybinds. VKB maintain an online library of videos and guides to offer step by step instruction for any adjustment. The base unit has three programmable function buttons, a mini throttle, two-way switch and wheel, and the grip is well-covered in buttons and hats. A few minor gripes would be that the base wasn't as wide as the VKB Gunfighter and occasionally my hand activated the function buttons. However, the Gladiator includes screw points to attach to a desk mount, and the extra functionality of the switches and wheels is a real bonus.
Overall, the VKB Gladiator NXT Evo with the right hand version of the premium space combat grip is extremely smooth, robust and precise. It's confident that it will be reliable and if something does fail, unlike other joysticks, you'll be in a position to do something about it. Currently priced at $165 US dollars, the VKB Gladiator NXT Evo comes highly recommended as an entry-level premium flight controller, with a 5% discount if the discount code BURRITO is used at the checkout.